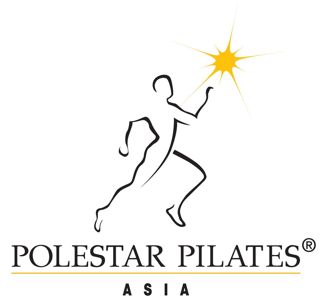 The Polestar Pilates education programme is designed to offer students maximum choice and flexibility. Polestar Pilates courses follow the progression illustrated below. For those taking more than one Pilates certification program in the Fitness series, the Fitness Principles course (PP) is required only one time.
The flow charts below show the modular training progression for the Comprehensive (Rehabilitation and Studio) courses as well as the Fitness courses (Mat and Allegro Reformer). Each box in the chart depicts a 2 day course module.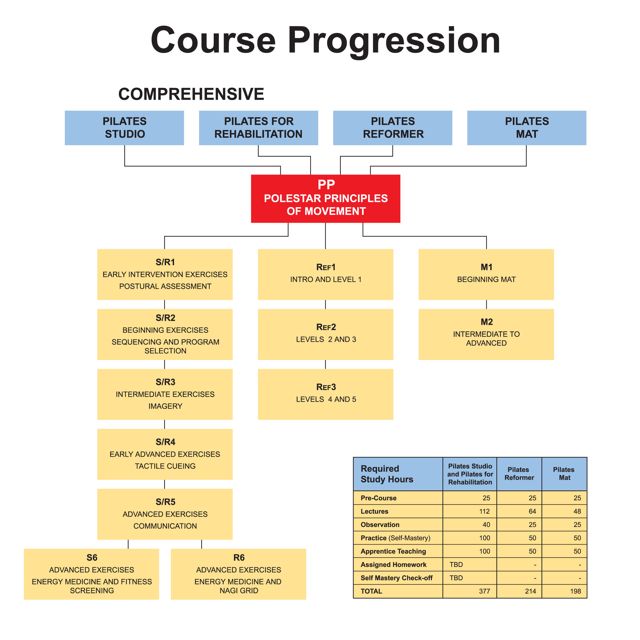 As part of preparing for your Polestar exam you will need to clock up hours of observation, self practice and practice teaching, requirements for each course varies and is detailed in the above Course Progressions diagram. Self study hours can be done anywhere and at any studio, not just at In-Motion. You will be given a logbook to record all your practice.
Required Study Hours
| | | | | | |
| --- | --- | --- | --- | --- | --- |
| Pre-Course             | Course | Lectures | Observation | Self-Mastery (Practice) | Apprentice Teaching |
| Rehab | 25 | 112 | 40 | 100 | 100 |
| Studio | 25 | 112 | 40 | 100 | 100 |
| Reformer | 25 | 64 | 25 | 50 | 50 |
| Mat | 25 | 48 | 25 | 50 | 50 |
Observation - observe a session from a qualified Polestar Pilates Instructor (take notes on exercises and cues)
Self Practice - practice the exercises from your course on your own or with course colleagues
Practice Teaching - practice teaching of the exercises you have learnt on your course on friends or colleagues

Exercise Sign Off - you are required to get each exercise signed off for demonstration and teaching by a Polestar Mentor
Modular Schedule
Each course module(PP/Mat1/Rehab4 etc) are 2 days , 16 hours in duration. Courses are scheduled on weekends (as often as possible), about a month apart, minimizing time away from home and work. The time between courses facilitates study, observation and practice, allowing you to master the material before continuing to the next module.
Where appropriate, module credits are applied to enable students to accumulate a varied and wide Pilates knowledge base. Polestar Pilates Qualifications are designed to successfully bring you to a level of mastery, preparing you to become a competent Pilates Practitioner in the training method of your choice (Studio, Mat, Reformer and Rehabilitation). Polestar's competency exams measure your ability to justify your exercise selections or treatment plan.
In-Motion is pleased to announce its appointment as a Polestar Pilates Hosting Centre for Teachers Training in Cantonese for the Polestar's Fitness Series which provides extensive teacher training for Pilates Mat and Mat with Small Props as well as Pilates Reformer-Allegro (Group and personal Training formats). Special attention is placed on safety, cueing and appropriate exercise selection.
For more information and registration, please email info@in-motion.hk
For information about fees and discounts, please visit Polestar Pilates Asia.